SSPI Canada July Inspirations Roundtable and Networking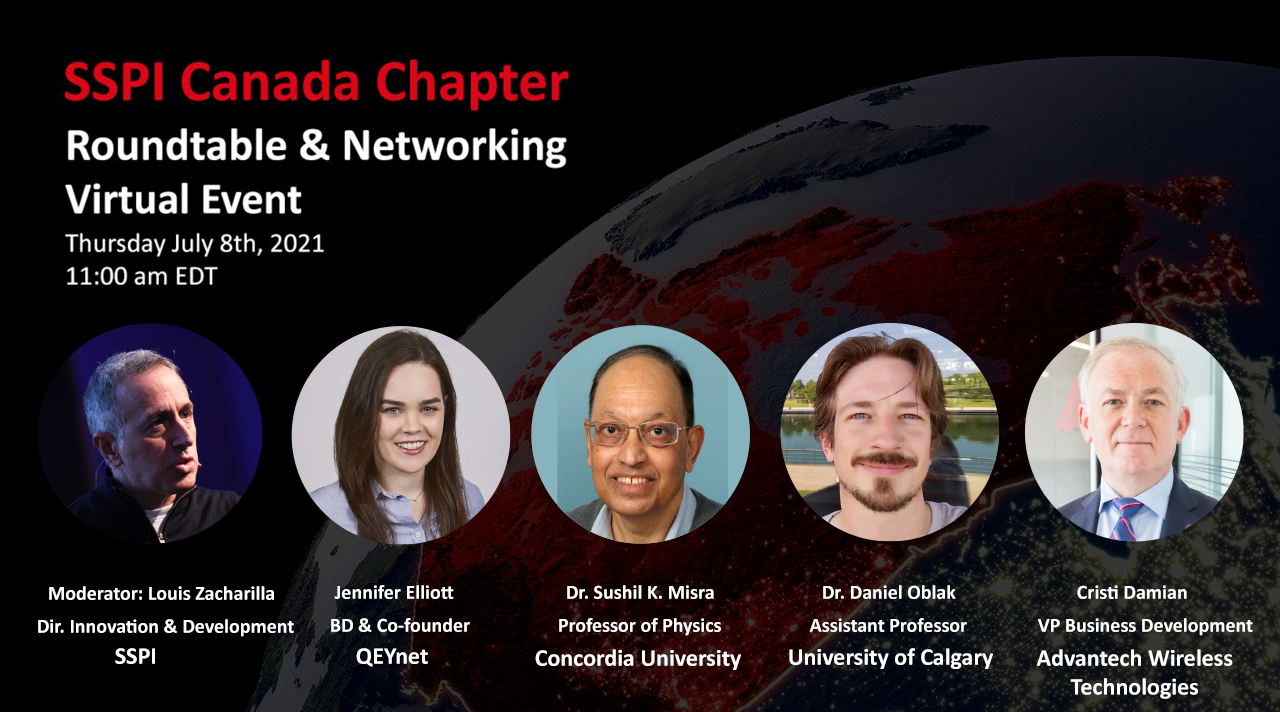 July is Better Satellite World month in Canada.
Join us for Space Inspirations in July -
Disruptive Innovation and start-ups who are making a Better Satellite World
Agenda
11:00am Welcome and Introduction
Louis Zacharilla, Dir. Innovation and Development. SSPI

11:05am Disruptive Innovation in the Satellite and Space Industry
Cristi Damian. VP Business Development, Advantech Wireless Technologies.
President, SSPI Canada Chapter.

11:15am Roundtable
Inspirations: Start-ups who are making a Better Satellite World
Quantum Communication technology that will help secure space-based assets.
Moderator: Louis Zacharilla

Jennifer Elliott.
Business Development & Co-founder, QEYnet
Jennifer is one of the co-founders of QEYnet, a startup that is developing a quantum technology to secure satellites against cyberattack. Jennifer's background is in aerospace engineering, specializing in the development of micro and nano satellites. During her time working at the UTIAS Space Flight Laboratory, she contributed to the development of a number of cutting-edge satellite missions that are currently in orbit. QEYnet is a Canadian company developing Quantum Communication technology that will help secure orbital assets against cyberattack and the looming threat posed by quantum computers. At QEYnet, Jennifer's focus is on sales and business development.
Dr. Sushil K. Misra, P. Phys.
Professor of Physics, Concordia University
Dr. Sushil K. Misra has been a Full Professor of Physics at Concordia University since 1977, having received his Ph. D. from Saint Louis University, USA in 1964 in condensed matter physics. This year he completed 54 years of his position as a full time faculty member of Concordia University, which he joined as an Assistant professor in 1967, after a post-doctoral stage at University of Toronto.
Dr. Misra's areas of research are both theoretical and experimental. Experimentally, he investigates using magnetic resonance nano materials, amorphous materials, and single crystals of interest
to industry and medicine. On the theoretical side, he works in the areas of computational physics involving quantum physics, with extensive international collaborations.
Dr. Daniel Oblak
Assistant Professor at University of Calgary.
Co-founder of Quantized Technologies Inc.
Dr. Daniel Oblak is an Assistant Professor at the University of Calgary and part of its Institute for Quantum Science and Technology. His research group, the Quantum Cloud Lab, tackles numerous experimental aspects of quantum networks and quantum technology such as quantum key-distribution, quantum satellite ground-stations, quantum memory, quantum wavelength transduction, and bio-photon emission. The overarching goal is to develop the hardware and protocols for a future quantum internet and the development of innovative quantum information technologies. Dr. Oblak's research achievements include storage of entangled states in solid-state quantum memories and teleportation of quantum-states over a metropolitan fiber-optic network. Dr. Oblak is the co-founder of Quantized Technologies Inc (QTI), which aims to translate the research expertise in quantum communication into hardware solutions for the next generation communication security.
11:45am Q&A - Networking Session
11:55am Canadian Premier – Better Satellite World Video
12:00pm Closure
Registration is free! Choose one of the ticketing options below.
Access details will be sent with your confirmation email.